Sunbirds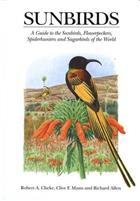 Description:
A guide to the Sunbirds, Flowerpeckers, Spiderhunters and Sugarbirds of the World. The U.S. edition - identical to the U.K. Pica Press edition.
Other titles from the series : Pica Press Identification Guides
Click to view all titles in this series...
Taylor, B.; Perlo, B. van (Illustrator)
Price £45.00
(Save £5.00)
Cleere, N.; Nurney, D. (Illustrator)
Price £19.99
(Save £30.01)

Chantler, P.
Price £50.00
You may also like...