Svensk Insektfauna 9:Staphylinidae Pt 6: Aleocharinae (Atheta)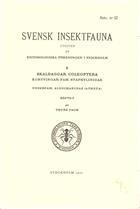 Our customers have given this title an average rating of 2 out of 5 from 1 review(s)
Customer Rating:





Description:
Text Swedish. (Rekv. 52) (pp. 113-296)
Customer Reviews
Our customers have given this title an average rating of 2 out of 5 from 1 review(s), Click here to add your own review for this title.
Dr martin Collins on 6/23/2017 6:45:03 AM





(2 out of 5)
I ordered this book as I have a particularly interest in this Genus and it certainly will be useful. It contains detailed species descriptions and some line illustrations, particularly of genitalia. What was disappointing was that it is written in Swedish. Given the title, this perhaps should not be too great a surprise, but a number of scientific works published abroad, are in English or German as more 'common' languages. It would have been helpful if the description of the book made this clear before I purchased it.The pages are also uncut, which in this day and age is very surprising.
Other titles from the series : Svensk Insektfauna
You may also like...