Tabel voor de Nederlandse Miljoenpoten (Myriapoda: Diplopoda)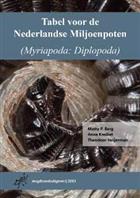 Description:
Text Dutch. Field key to all recorded species of millipedes from the Netherlands, including some which may occur in the country. Of the 51 species listed more than half are illustrated by colour photos. Drawings illustrate characters which may be seen using a 10x hand lens. Includes notes on ecology and distribution.
You may also like...