Tesarikoviti (Coleoptera: Cerambycidae) Fauna CSR 5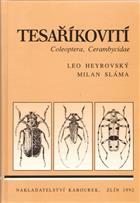 Description:
2nd edition. Facsimile of original edition (1955), with corrections and additions. Cerambycidae of the Czech and Slovak Republics
Other titles from the series : Fauna CSR
Click to view all titles in this series...

Šramek-Husek, R.; Straškraba, M.; Brtek, J.
Price £35.00
You may also like...