The Birds of Togo: An Annotated Check-List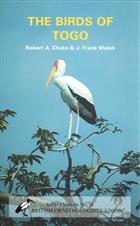 Description:
1st edition. B.O.U. Check-list No. 14. The fourth checklist published by the BOU to cover the avifauna of a West African country. Introductory chapters cover the geology and topography, geography, climate and vegetation, plus breeding, migration, conservation and zoogeography. The bulk of the book comprises the systematic list covering all 624 species reliably recorded in the country. Appendices cover ringing recoveries, and an analysis of avian families.
Condition
Fine.
Other titles from the series : B.O.U. Check-list
Other titles from the collection : Prof Jim Green
You may also like...