The Blackflies (Diptera: Simuliidae) of Brazil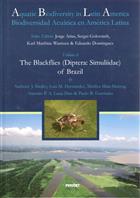 Description:
The second volume on blackflies (Simuliidae) in this series concentrates on the 80 species present in Brazil. Modern morphological overview serving as a foundation for further morphological studies in the Neotropical region. Comprehensive descriptions and taxonomic discussions for each species with digital images of main identification characters. Identification keys to genera, subgenera and species in English, Spanish and Portuguese. Brief world and Neotropical overviews of the biology, medical importance and control of species with full coverage for those found in Brazil
Other titles from the series : Aquatic Biodiversity in Latin America
You may also like...