The Butterflies of Liberia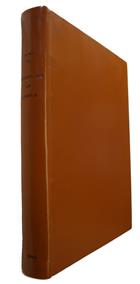 Description:
Duplicated List of Corrections enclosed.
Condition
Rebound in recent full calf, marbled endpapers, orig. wrappers retained. Fine craft binding by Monique Macaux.
Other titles from the series : Memoirs of the American Entomological Society
Click to view all titles in this series...

Szczytko, S.W.; Stewart, K.W.
Price £20.00
Fox, R.M.; Lindsey, A.W.; Clench, H.K.; Miller, L.D.
Price £85.00
Other titles from the collection : Henri Dirickx Library
You may also like...