The Complete Field Guide to Stick and Leaf Insects of Australia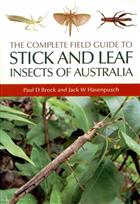 Publisher : CSIRO
Published In : Australia
Illustrations : col photos.
Description:
The first book on Australian phasmids for nearly 200 years. Most species are endemic. Includes photographs and distribution maps for all species, notes on ecology and biology, identification keys. Notes on collecting and studying phasmids
You may also like...