The Danish Ingolf-Expedition. Vol. III, 7. Crustacea Copepoda. II: Parasita and Hemiparasita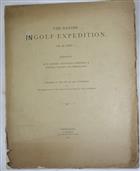 Description:
Text English. Based on collections made from the Faroe Islands, Iceland and Greenland during the Ingolf Expedition (1895-1896). Includes List of the Stations
Condition
4to, wrappers, some wear. Good.
Other titles from the collection : Dr Richard Hamond's Library
You may also like...