The Dragonflies of Corfu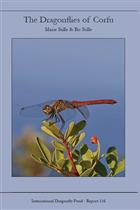 Description:
Text English. There are 143 species of dragonflies and damselflies in Europe and 39 of these are presently found on Corfu, giving the island one of the highest numbers of species in the Greek archipelago. New species have been added to the fauna quite recently. The aim of this book is to raise the awareness of and the understanding for the dragonfly fauna, and to give a first idea of its status and need for protection. Information on identification, distribution and habitat for all the 43 reported species from Corfu is also presented.
You may also like...