The Ecology and Evolution of Gall-forming Insects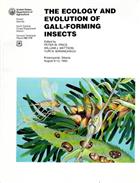 Description:
Krasnoyarsk, Siberia August 9-13, 1993. General Technical Report NC-174. This international proceedings focuses on the biology, ecology, and evolution of gall-forming insects and their uniquely specialized relationships with their host plants. The individual contributions range in scope from detailed descriptive to profoundly theoretical, synthetic studies. One underlying theme of the proceedings is the important contribution of knowledge about gall-forming insects and their hosts to the development of robust, general principles about the ecology and evolution of plant-herbivore relationships.
Condition
Creasing to spine. Good.
You may also like...