The Evolution of Plants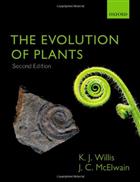 Description:
2nd edition. The most accessible and contemporary book on plant evolution available * Brings together information from the plant fossil record with genotypic data from biomolecular studies to explore biological evolution in a coherent, unified way * Considers plant evolution in the context of long-term environmental change, especially that brought about by climate change * Covers the whole geological timescale, but focuses on periods when major evolutionary changes occurred * Special biome maps illustrate the flora covering the Earth at different ages in the past, showing the trends in global plant distribution through time.
New to this Edition:
* Biomolecular approaches and concepts now integrated throughout the book, with biomolecular methodologies introduced in chapter 1
* The evolution of photosynthesis is now explored in chapter 2
* A consideration of vegetation dynamics in the context of climate change becomes a theme throughout the book
* Coverage of evolutionary theories and the plant fossil record extensively revised in the light of current understanding
* New Journal Clubs on the book's web site encourage students to critically engage with published research related to topics explored in the book
You may also like...