The Fleas (Siphonaptera) of Fennoscandia and Denmark (Fauna Entomologica Scandinavica 41)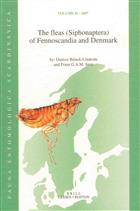 Description:
First comprehensive account of the flea fauna of Fennoscandia and Denmark. A total of 89 species/subspecies are treated of which 69 are known from this region and a further 20 from neighbouring areas. Chapters on flea-host associations, life history, medical importance, morphology and collecting/preservation. Identification keys to adults from family to subspecies. Species/subspecies accounts include synonymy, identification, distribution, host relations and biology
Other titles from the series : Fauna Entomologica Scandinavica
You may also like...