The Green Planet: The Secret Life of Plants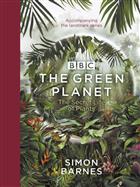 Description:
Accompanying the new BBC series. Plants live secret, unseen lives - hidden in their magical world and on their timescale. From the richest jungles to the harshest deserts, from the snowiest alpine forest to the remotest steaming swamp, Green Planet travels from one great habitat to the next, showing us that plants are as aggressive, competitive and dramatic as the animals on our planet. You will discover agents of death, who ruthlessly engulf their host plant, but also those that form deep and complex relationships with other species, such as the desert cacti who use nectar-loving bats to pollinate. Although plants are undoubtedly the stars of the show, a fascinating new light will be shed on the animals that interact with them.
Using the latest technologies and showcasing over two decades of new discoveries, Green Planet reveals the strange and wonderful life of plants like never before - a life full of remarkable behaviour, emotional stories and surprising heroes.
You may also like...