The Greenland Entomofauna: An Identification Manual of Insects Spiders and Their Allies (Fauna Entomologica Scandinavica 44)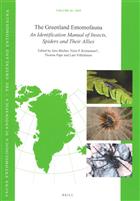 Description:
An international team of 64 taxonomic specialists provide for the first time a richly illustrated guide to the identification of the c. 1200 species of Insects, Arachnids and Myriapods known to occur in the Greenland. While the composition, origin and adaptations of the Greenland fauna has always been a challenge to biogeographers and ecologists/ecophysiologists, the provision of a tool for detailed identification of its constituent species is now particularly timely, since global climate change will expectedly have a particularly noticeable impact on biota at high latitudes. This obviously renders the feasibility of monitoring distributional range shifts of the principal components of this biota a matter of some urgency.
Other titles from the series : Fauna Entomologica Scandinavica
You may also like...