The Honey Bee Around and About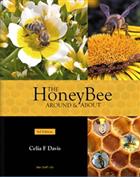 Publisher : Bee Craft
Illustrations : col illus
Description:
3rd edition. Initially looking at the origin of honey bees and different subspecies, the subsequent chapters cover the major diseases and pests, including the mite, Varroa destructor and the new threat of the Asian hornet (Vespa velutina). The author covers the honey bee's major function as a pollinator of flowers, both in agriculture and the wider environment, with a new chapter looking at the broader picture of the situation facing them today such as new disease threats, loss of habitat and the use of agricultural pesticides. The final chapters then look at the relationship between bees and flowers and the resulting products of the hive. The appendix provides the background to scientific terminology with an extensive glossary including phonetic spellings and suggestions for further reading.
Recommended reading for beekeeping examinations module 2 (Honeybee Products and Forage), module 3 (Honeybee Pests, Diseases and Poisoning) and module 7 (Selection and Breeding of Honeybees). The book is based on these modules although the text is just as interesting and informative for anyone simply wanting to know more about this fascinating insect.
This is a companion volume to the author's first book The Honey Bee Inside Out which covers the anatomy and physiology of the honey bee.
You may also like...