The Marine Fauna of New Zealand: Pelagic Calanoid Copepods: Families Euchaetidae, Phaennidae, Scolecithricidae, Diaixidae, and Tharybidae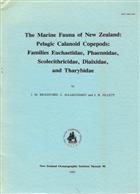 Description:
New Zealand Oceanographic Institute Memoir 90.
Condition
Orig. wrappers. From the library of Prof. J. Green (1928-2016) with his name to titlepage.
Other titles from the collection : Prof Jim Green
You may also like...