The Modern Flower Press: Preserving the Beauty of Nature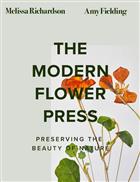 Description:
A contemporary, beautifully illustrated book on flowers, flower pressing and arranging.
Melissa Richardson and Amy Fielding run a successful floral design studio based in South London, where they curate a carefully selected edit of botanically inspired homewares and gift ideas. They also create floral designs for events, weddings and creative projects, and love nothing more than to tell stories with flowers. Here they will do just that, sharing their wealth of knowledge on all things floral.
The Modern Flower Press will be a gloriously full colour dive into the art of pressing flowers, explaining and illustrating how to choose the right flowers, how to prepare and press them, and an array of uses for the final products. The book will be project-led and inspired by the changing seasons, using seasonal flowers and focusing on composition, colour and form.
You may also like...