The Scientists: An Epic of Discovery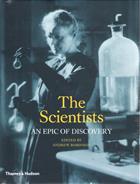 Description:
This book tells the remarkable lives of the pioneers – from Galileo and Newton, Faraday and Darwin, Pasteur and Marie Curie, to Einstein, Freud, Turing and Crick and Watson. Often unorthodox thinkers, these scientists frequently had to struggle to gain recognition for their work, in order to leave their legacy to future generations.
Other titles from the collection : Library of Pamela Gilbert
You may also like...