The Tawny Owl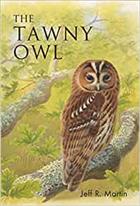 Description:
The haunting calls of the Tawny Owl can be heard from Scandinavia in the north of its range to North Africa in the south. Most people would consider it to be a common and widespread species throughout Europe, but populations in Britain at least are declining, and we need to understand more about the behaviour and ecology of this magnificent woodland bird if its future is to be secured.
Jeff Martin has been studying owls for decades, and in this timely book he combines his personal observations together with those of other ornithologists and a comprehensive review of the literature, resulting in some surprising revelations. It was not long ago, for example, that the Tawny Owl was considered to be one of the most nocturnal of all owl species, but in recent years it has been observed sunbathing, calling and even hunting in broad daylight.
Other titles from the series : Poyser Monographs
You may also like...