The Tortoise beetles of Madagascar (Coleoptera: Chrysomelidae: Cassidinae). Part 1: Basiprionotini, Aspidimorphini and Cassidini (except the genus Cassida)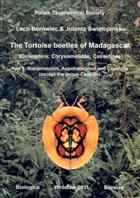 Description:
In this first part of a taxonomic study of the Cassidinae of Madagascar the tribes Aspidimorphini, Basiprionotini and Cassidini (except Cassida) are reviewed, keyed and illustrated. Includes 10 genera, 60 species. Each species is figured and distribution in Madagascar is given. Almost all species are illustrated in colour (dorsal and lateral views)
Other titles from the series : Polish Taxonomical Monographs
You may also like...