The Vegetation of the Maltese Islands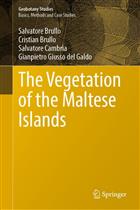 Description:
This book discusses the remarkable plant diversity of the Maltese Archipelago. Despite its relatively small area and long-term human exploitation, many different plant communities occur in this territory. The book presents phytosociological investigations, together with taxonomical studies, which have been conducted over more than forty years, highlighting the unique features of this central Mediterranean insular ecosystem. It also describes the phytosociological role played by several narrow endemic or phytogeographically relevant taxa and introduces many phytocoenoses exclusively growing in the archipelago. The study integrates the palaeogeographic issues linked to the ancient and intriguing history of the different civilizations that succeeded on the islands for thousands of years. The book also focuses on the N2000 habitats.
Other titles from the series : Geobotany Studies
Click to view all titles in this series...

Brullo, S.; Brullo, C.; Cambria, S.; Giusso del Galdo, G.
Price £119.99
Pedrotti, F.; Box, E.O. (Eds)
Price £129.99
You may also like...