Track and Sign: A Guide to the Field Signs of Mammals and Birds of the UK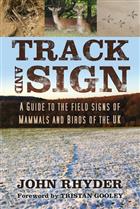 Description:
Following years of extensive research from one of the UK's leading wildlife trackers, this book explores the world of UK mammals, birds, reptiles and amphibians like no other. The author has spent many years collecting the information contained within. The tracks within the book are illustrated with line drawings and photographs, making identification in the field effective and accurate. Other signs made by wildlife including scat, feeding, damage to trees, dens, beds and nests are also fully explained and illustrated. This book is suitable for both the complete beginner and the expert naturalist and will be invaluable for all.
You may also like...