Truth and Beauty in Metamorphism: A tribute to Dugald M. Carmichael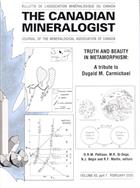 Description:
The Canadian Mineralogist: Journal of the Mineralogical Association of Canada Vol 43(1). This thematic issue is devoted to one of the world's most original thinkers in metamorphic petrology, Dugald M. Carmichael, who retired from Queen's University, Kingston, Ontario.
The special issue consists of 24 original papers by some of the world's leading figures in metamorphic petrology that cover the full spectrum of the subject and its applications to Earth Science.
Condition
Wrappers. Vg.
You may also like...