Von der Natur fasziniert: Fruehe Augsburger Naturforscher und Zeichner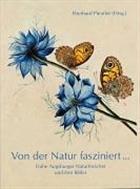 Publisher : Wissner
Published In : Augsburg
Illustrations : 166 col illus.
Description:
Text German. This book looks at the achievements of the important natural historians living in Augsburg in the 18th and 19th centuries, and introduces the reader to the wealth of botanical and zoological illustrations which thanks to the work of these men, have survived until today: Jacob Huebner (1761-1826), Lepidopterist; Gottlieb Tobias Wilhelm (1758-1811); Christian Friedrich Freyer (1794-1885), Lepidopterist; Johann Friedrich Leu (1808-1882), Ornithologist, taxidermist and draughtsman; Andreas Wiedemann (1824-1896); Jakob Friedrich Caflisch (1817-1882), Botanist
You may also like...