New species named after Greta Thunberg in Entomologist's Monthly Magazine
Pemberley Books publication becomes a major news story.
The scientific description of a new beetle species, published by Pemberley Books. in the Entomologist's Monthly Magazine became a major news story this week. The beetle called Nelloptodes gretae was named after the environmental activist Greta Thunberg, in a paper by Dr. Michael Darby, a Scientific Associate at the Natural History Museum.
Michael Darby said: 'I chose this name as I am immensely impressed with the work of this young campaigner and wanted to acknowledge her outstanding contribution in raising awareness of environmental issues.
The beetle, is less than 1mm long and has no eyes or wings, belongs to the Ptiliidae family of beetles. The beetle was first collected in samples of soil and leaf litter from Kenya by Dr William C. Block in the 1960's. Dr Block's collection was donated to the Natural History Museum, London in 1978.
The editor, of The Entomologist's Monthly Magazine, Andrew Wakeham-Dawson, said: "I am delighted that we have published a species name that acknowledges all that Greta and her supporters have done."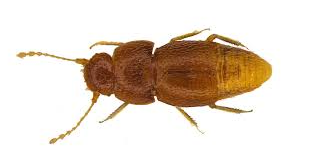 Nelloptodes gretae
Following contact between the Entomologist's Monthly Magazine and the Press Office at the Natural History Museum a press release was issued on the date of publication of the paper, 25th October 2019. Immediately there was intense interest from the press and social media both in the UK and internationally. Ian Johnson, Publisher of EMM said "It was an amazing day - phone calls were coming in from Press Agencies from around the world. One said it was the best story they had covered all week. Naturally I am thrilled that a scientific paper published in one of our journals has received such media interest profile."
The story appeared on the BBC homepage and was the 6th most read story of the day. The story was also covered in the British newspapers, The Guardian, Telegraph, The Sun, The I, Evening Standard, Daily Mail and the Star.
International coverage included: TV, Breaking News.ie, Euronews, Straits Times, News 18, Pmnews Nigeria, Yahoo, Record North, DW, PBS, Business Insider, My Northwest, ABC News, Kval, News Talk, News Week, and This Is Money.
Read the paper in full :
https://www.ingentaconnect.com/content/pemberley/emm/2019/00000155/00000004/art00007