A Catalogue of British Fossil Vertebrata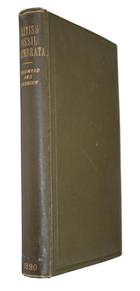 Description:
First edition. Uncommon. Includes notes on the dates of publication of 'Recherches sur les Poissons fossiles' by L. Agassiz and 'Odontography' by R. Owen.
Condition
8vo, orig. publisher's brown cloth. Ex-lib.: withdrawn from Radcliffe Library, Oxford, with stamp to title-page only; book-plate. Very good.
You may also like...