Fossil Seahorses and Other Biota from the Tunjice Konservat-Lagerstätte, Slovenia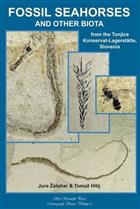 Description:
the exceptional fossils that can be found in the oligocene and miocene beds of the tunjice hills in the central part of slovenia have been well known for more than 150 years. Beautifully preserved coral reefs, nodules with decapod crabs, cones of coniferous trees, nautilids, remains of large miocene mammals, silicified wood of palm trees and immense numbers of various marine gastropods and bivalves were previously considered the most significant treasures from this area. in the last decades, however, an exceptional fossil site was discovered and explored in the beds of the Coprolitic horizon, which is of middle miocene age. here, the oldest fossil record of seahorses and the first known fossil record of pygmy pipehorses and ribboned pipehorses have been discovered. in the short time since their first scientific description these fossil seahorses and pygmy pipehorses have achieved worldwide recognition as some of the most important palaeontological discoveries in the last century. they have been included in the list of '100 of our planet's most amazing new species' as determined by the international institute for species Exploration. these remarkable fossils are what this book is about. the authors provide a richly illustrated overview of the geological and palaeontological research of the tunjice hills, which led to the discovery and documentation of this intriguing site. Given the significance and exceptional quality of this unique fossilized palaeobiota, the tunjice hills ranks as a Konservat-lagerstätte of significant global importance.
Other titles from the series : Siri Monograph Series
You may also like...