Miscellanea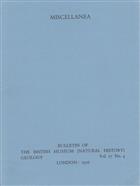 Description:
Bull. BM(NH) Geology 27(4): 271-345. Contents: C.H.C. Brunton & A. Rissone, Fusella M'Coy 1844, A problematic brachiopod genus from the Lower Carboniferous; G.F. Elliott, The Jurassic Chaetetid, Blastochaetetes bathonicus J.C Fisher, In England; C.R Hill, Coprolites of Ptilopyllum cuticles from the Middle Jurassic of north Yorkshire; S.F Morris, A new fossil freshwater crab from the Ngorora Formation (Miocene) of Kenya; E.F. Owen, Cyclothyris (Cretaceous Brachiopoda) from California; C.J.O. Harrison & C.A Walker, Cranial material of Oligocene and Miocene flamingos, with a description of a new species from Africa; C.J.O Harrison & C.A Walker, A new fossil pelican from Olduvai; R.A. Fortey & A.W.A. Rushton, Chelidonocephalus trilobite fauna from the Cambrian of Iran
Condition
Vg.
Other titles from the series : Bulletin of The Natural History Museum: Geology
You may also like...