Miscellanea II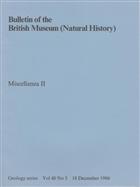 Description:
Bull BM(NH) Geology Vol. 40(5). Contents: D.S. Brown, A.C. Milner & M.A. Taylor, New material of the plesiosaur Kimmerosaurus langhami Brown from the Kimmeridge Clay of Dorset; C.J. Cleal, Plant macrofossils from the Edgehills Sandstone, Forest of Dean; V.K. Din, R.F. Symes & C.T. Williams, Lithogeochemical study of some Mendip country rocks with particular reference to boron; T. Engeser & D. Phillips, Redescription of two specimens previously recorded as fossil teuthids (Coleoidea, Cephalopoda); H.L. Pearson, Structure and taxonomy of the Carboniferous lycopsid Anabathra; B.A. Thomas & R.A. Spicer, Meyenodendron borealis gen. et sp. Nov., a new lepidodendrid of angaran affinity from northern Alaska.
Condition
Vg.
Other titles from the series : Bulletin of The Natural History Museum: Geology
You may also like...