A Guide to Fossil Collecting in England and Wales: A Guide to the Collection Preservation and Display of Fossils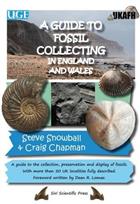 Description:
With More Than 50 UK Localities Fully Described. This is a guide on how and where to collect fossils in England and Wales. It provides invaluable advice for the amateur collector, whether a beginner or a seasoned hand. Each of the many localities described (more than 50) contains up-to-date information regarding the geology, the stratigraphy, the exposures available (including details about safety and access), the best places to look for fossils at the location and what to look for once you are there. It also examines how fossils can be prepared and preserved, labelled and displayed, in addition to a brief history of British fossil collecting.
You may also like...