A Description of some Insects which appear to exemplify Mr. William S. MacLeay's Doctrine of Affinity and Analogy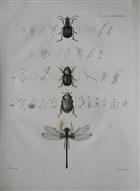 Description:
From the Trans. Linn. Soc., 14(1): 93-110. An interesting contribution to the study of analogy. Accompanying plate engraved by John Curtis.
Kirby,'accepted the premise that superficial, analogical resemblance indicated some deeper alliance' M.Blaisdell (1982), Natural theology and nature's disguises, Journal of the History of Biology Vol.15 (2) 163-189.
Condition
4to, disbound in folder. Vg.
Other titles from the collection : Ken Smith
You may also like...