A Field Guide To The Birds Of South-East Asia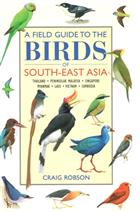 Description:
1st edition. A classic field guide, an award-winning book, and a definitive volume on the region's birdlife. The vast diversity of South-East Asian birdlife attracts increasing numbers of birdwatchers each year. Covering Thailand, Vietnam, Singapore, Peninsular Malaysia, Myanmar, Laos and Cambodia, this unique and indispensable guide covers in detail the identification, voice, breeding, status, habitat and distribution of all the species and distinctive subspecies of the region. 104 full-colour plates by a range of expert artists. All 1251 species covered.
Condition
From the library of Prof. J. Green (1928-2016) with his name to endpaper. Vg in d/w.
You may also like...