A Field Guide to the Butterflies and Burnets of Spain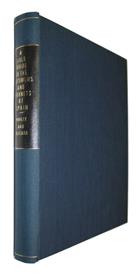 Condition
Rebound in cloth, contrasting title label. The author's copy. Inscribed by W.B.L. Manley's wife to Gerry Tremewan: 'To Gerald, our trusted and loved friend, Bill's field copy which always accompanied us in our travels from 1970 to 1978 - from his widow and collaborator'. Gerry Tremewan (1931-2016) was a renowned Cornish entomologist who worked on Lepidoptera, specialising for over 60 years on the Zygaenidae. He was also editor of the 'Entomologist's Gazette' for 52 years.
Other titles from the collection : The Library of W.G. Tremewan
You may also like...