A Field Guide to The Dragonflies and Damselflies of Sri Lanka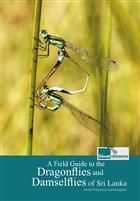 Description:
This Field Guide provides a significant contribution to the documentation of freshwater biodiversity of south Asia. The book includes beautiful photographs and brief descriptions of 105 species of dragonflies and damselflies, being just over 80% of the island's fauna. Includes detailed information on habitat, ecology and geographic distribution of each species.
You may also like...