Birds of Sri Lanka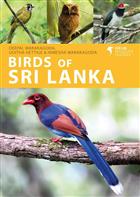 Description:
The definitive photographic guide to the amazing avifauna of Sri Lanka. The island of Sri Lanka is one of Southern Asia's most popular birding destinations, boasting a remarkably high number of endemic species. The perfect companion for any wildlife-friendly visitor, Birds of Sri Lanka provides photographic coverage of more than 320 species that regularly occur in the region. Concise text for each species includes information on identification, songs and calls, behaviour, distribution and habitat, with each photo having been carefully selected to guide identification. A guide to the best birdwatching sites in Sri Lanka is also included. Portable yet authoritative, this is the perfect guide for travellers and birdwatchers visiting this spectacular and bird-rich destination.
Other titles from the series : Helm Wildlife Guides
You may also like...