A Guide to the Birds of Trinidad and Tobago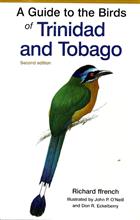 Description:
Second edition, reprint (this edition first published in 1992). Guide to the birds of Trinidad and Tobago, two islands which hold many Neotropical species not found elsewhere in the Caribbean, and with a total bird list of over 450 species. Includes field identification, habitats and status, range and subspecies, diet, nesting and behaviour.
Condition
Lightly used. Some marginal pencil annotations.
You may also like...