A history of Polish birds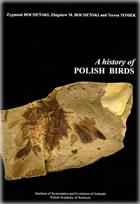 Description:
The first book to summarize our knowledge of bird remains from all fossil and subfossil sites in Poland, compare it with books and papers on the fauna of Poland published since the 16th century, and contrast this with the recent status of each species. It should prove to be an invaluable resource for avian palaeontologists, zooarchaeologists and ornithologists, as well as serious birdwatchers who wish to broaden their knowledge. The book is more than just a catalogue or an encyclopedia. It includes entries on every species and summarizes their occurrence in Poland from the earliest fossil records to the present day. User-friendly additions such as stratigraphic charts, a graphical presentation of the temporal distribution of all avian taxa in Poland and a complete list of fossil and subfossil sites with bird remains make it easy to follow even for non-specialists. Numerous illustrations help the scientific content.
You may also like...