A Key to the British Freshwater Leeches: with notes on their ecology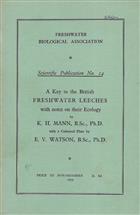 Description:
1st edition. Coloured plate by E.V. Watson. Scientific Publication no.14.
Condition
Good. From the library of the naturalist Dr. Bernard Nau (1937-2021) with his name to cover.
Other titles from the series : Freshwater Biological Association - Scientific Publication
You may also like...