Freshwater Leeches of Britain and Ireland: Keys to the Hirudinea and a Review of their Ecology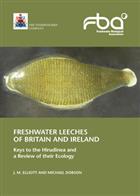 Description:
This is the fourth FBA Scientific Publication to provide an identification key to freshwater leeches, the most recent edition appearing in 1979. In this new version the nomenclature has been revised and the keys to species re-organised into a more logical progression. All the illustrations accompanying the keys are new and have been drawn by Mike Dobson. The ecology section has been enlarged with the addition of over 200 references. The taxonomy of leeches in Europe is in a period of major change and invasive species, among leeches as with so many other organisms, are encroaching upon freshwater habitats across the continent, so these notes include comments on species that might be expected to appear in new locations in the coming years.
Other titles from the series : Freshwater Biological Association - Scientific Publication
You may also like...