Fauna Iberica 47: Annelida Polychaeta 6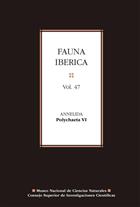 Series : Fauna Iberica
Volume: 47
Publisher : CSIC
Published In : Madrid
Illustrations : line drawings
Description:
Text Spanish. Annelida Polychaeta VI represents a new step forward, within the Iberian Fauna series, in the synthesis of the knowledge of the marine annelids of the Iberian coast and the Balearic Islands. After the publication of five volumes dedicated to this group of invertebrates: volumes 21 (San Martín, 2003), 25 (Viéitez et al., 2004), 36 (Parapar et al., 2012), 41 (Parapar et al., 2015) and 45 (Parapar et al., 2019), this work represents a new advance in the study of those known as Sedentary Polychaetes, and in particular the clade Canalipalpata.
This volume includes a detailed study of three families of polychaetes included in the Order Sabellida: Fabriciidae Rioja, 1923, Sabellidae Latreille, 1825 and Serpulidae Rafinesque, 1815. A bibliographic review of each family is provided; a general introduction to each family gives information on relevant aspects of taxonomy, anatomy and systematics. Identification keys to both genera and species. For each of the 122 species included in this work, a detailed morphological description accompanied by illustrations is included, as well as a synthesis of current knowledge about their biology and geographical distribution. Illustrated with line drawings and scanning electon microscope photographs, all accompanied by a complete and updated bibliography, as well as an appendix of nomenclature.
Other titles from the series : Fauna Iberica
You may also like...