Fauna Iberica 41: Annelida Polychaeta 4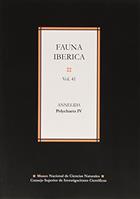 Series : Fauna Iberica
Volume: 41
Publisher : CSIC
Published In : Madrid
Illustrations : line drawings
Description:
Text Spanish. Detailed study of families Glyceridae, Goniadidae, Capitellidae plus the families Aphroditidae, Polynoidae, Acoetidae, Sigalionidae and Pholoidae, which correspond to the superfamily Aphroditoidea. Includes an in-depth review of each family, with a general introduction to each family, covering aspects of their taxonomy, anatomy and systematics. Identification keys to genera and species. Description of each of the 111 species, with information on morphology, biology, geographic distribution and taxonomy.Identification keys to all genera and species recorded from the Ibero-Balearic area. This volume concludes the revision of the subclade Aciculata (also known as Errantia), and starts the study of members of the "sedentary" polychaete subclade Scolecida.
Other titles from the series : Fauna Iberica
You may also like...