Fauna Iberica 26: Lepidoptera Zygaenidae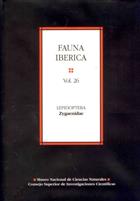 Series : Fauna Iberica
Volume: 26
Publisher : CSIC
Published In : Madrid
Illustrations : 8 col plates, 55 text figs, 37 maps
Description:
Text Spanish. Procridinae (3 genera, 14 species), Chalcosiinae (1 species), Zygaeninae (1 genus, 14 species) are found in the Iberian Peninsular. Keys to all taxa, with species descriptions, maps, microgaphs of male and female genitalia, colour plates illustrating all species. Information on systematics, distribution, phylogeny, fossil record, origin and dispersal, defence mechanisms, natural enemies, morphology
Other titles from the series : Fauna Iberica
You may also like...