Fauna Iberica 25: Annelida Polychaeta I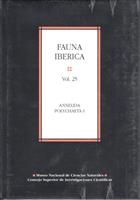 Series : Fauna Iberica
Volume: 25
Publisher : CSIC
Published In : Madrid
Illustrations : 168 text figs
Description:
Introduction to morphology and biology of the Polychaete Annelids, and key to families found around the Iberian coast. Detailed taxonomic review of families: Phyllodocidae, Hesionidae, Pilargidae, Nereididae, Nephtyidae, Paralacidoniidae, Chrysopetalidae y Pisonidae, with keys to species level. Detailed species descriptions for the 129 species from the above families
Other titles from the series : Fauna Iberica
You may also like...