Jellyfish and Allies of the British and Irish Coast (Identification Chart)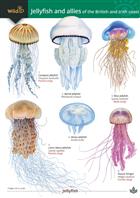 Description:
This identification chart features 28 jellyfish and allied species of the British and Irish coast. Illustrated by colour paintings with accompanying text covering the size, active months and habitat for each species. Also included is a gallery of photographs of the commonest jellyfish washed up on the shore, since this is typically how most people will first see them.
Jellyfish, hydroids, soft corals, sea pens, sea fans and sea anemones make up the phylum Cnidaria.
Other titles from the series : FSC IDENTIFICATION CHARTS
You may also like...