Die Wasserwanzen Deutschlands: Bestimmungsschlüssel für alle Nepo- und Gerromorpha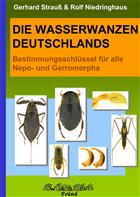 Publisher : WABV
Published In : Germany
Illustrations : 300+ col photos, 50+ line drawings
Description:
Text German. Identification keys to the water bugs (Nepo- and Gerromorpha) of Germany. Introductory section includes information on occurrence in Germany, habitat preference, protection and use as indicators in conservation. Information on collecting and preservation and tips on identification. Richly illustrated keys to families and genera, together with keys to families for the immature stages. Up to three species are illustrated per page enabling comparison of similar species. For genera with several species, keys are included. For each species information there are notes on length, biology, ecology and distribution, habitat preference
You may also like...

Rinne, A.; Wiberg-Larsen, P.
Price £139.00
Henwood, B.; Sterling, P.; Lewington, R. (Illus)
Price £29.50
(Save £5.50)
Turin, H.; Kotze, D.J.; Muller-Kroehling, S.; Saska, P.; Spence, J.; Heijerman, T.
Price £115.00