Guide to chalk rivers of England (Identification Chart)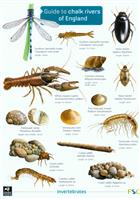 Description:
Produced in partnership with the Herts and Middlesex Wildlife Trust, this fold-out chart provides an identification guide to the insetcs, molluscs, mammals, fish and plants that live in and around chalk streams and rivers. Text on the reverse side examines the global importance of English chlak streams. There are fewer than 200 chalk rivers in the world, and most of these are in southern England
Other titles from the series : FSC IDENTIFICATION CHARTS
You may also like...