Harvestmen of the British Isles (Identification Chart)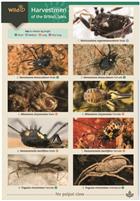 Description:
This is the 2nd edition of the FSC's fold-out guide to harvestmen. It covers the whole British and Irish list, bringing the guide fully up to date for 2022. Like the first edition, there are photographs of each species. Separate photos of males and females are given where there is significant variation. On the reverse side there is a comprehensive identification table.
Other titles from the series : FSC IDENTIFICATION CHARTS
You may also like...