Illustrated Catalog of Scorpions. Part II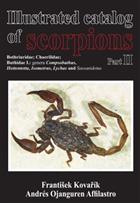 Description:
Bothriuridae; Chaerilidae; Buthidae I., genera Compsobuthus, Hottentotta, Isometrus, Lychas, and Sassanidotus. Contains 332 species including 143 synonyms of which 19 are new (total of 475 taxa). Eight new species of the family Buthidae are described.
Other titles from the series : Illustrated Catalogue of Scorpions
Click to view all titles in this series...


Kovarik, F.; Fet, V.; Soleglad, M.
Price Price:Not yet confirmed
You may also like...