Ancient Woodland indicator Plants (Identification Chart)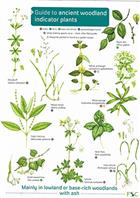 Description:
Ancient woodlands have been around for centuries. In the UK they date back to Medieval times, and have developed ecosystems that are rich, complex and irreplaceable. They are also a delight to visits, often with spectacular carpets of spring flowers. Dating woodlands is not straightforward but some plants can indicate that a site has been wooded from a considerable length of time. This guide, produced with the Woodland Trust, provides an introduction to these indicator plants.
Other titles from the series : FSC IDENTIFICATION CHARTS
You may also like...